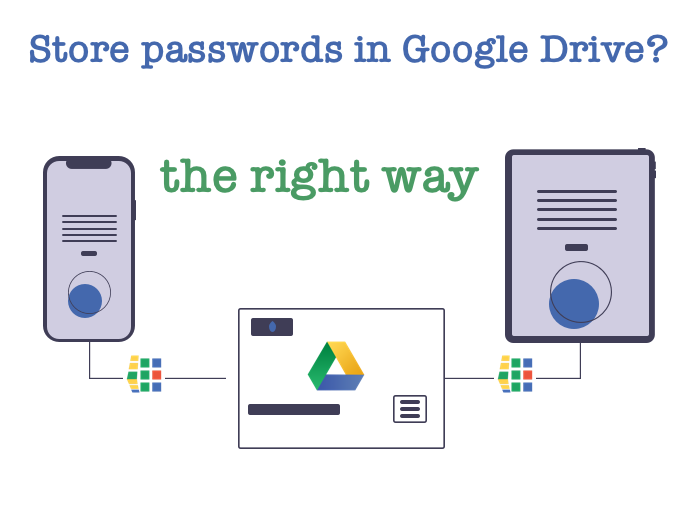 Store passwords in Google Drive – should you?
21/04/2020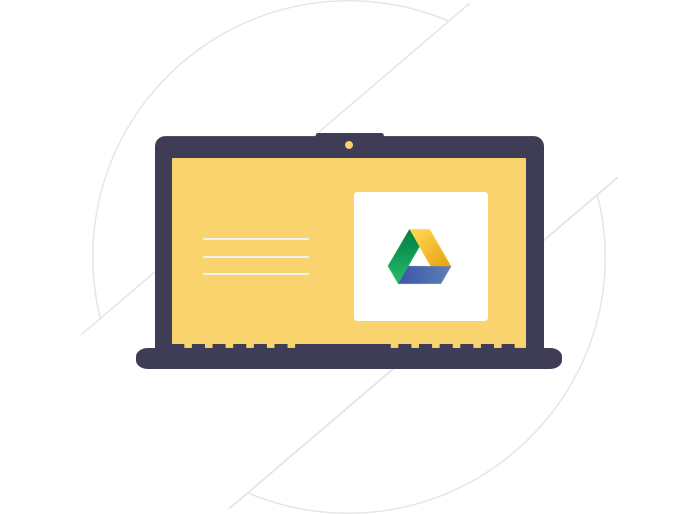 Is Google Drive private?
19/05/2020
Password manager for your business
Did you know that weak, stolen, or reused employee passwords are the #1 cause of breaches? The majority of people use very weak passwords and reuse them on different websites and tools. It is the easiest way from the user end, but is it the safest one? Definitely no. By using the same or equally weak passwords on many tools and websites at a time, the chances to become prey for cyber attackers are increasing enormously, as the breaching process will be way more simplified for them. Today technology is evolving so fast that cyberattacks are getting an increasingly common event with a higher success rate than ever before. Unfortunately, your business can also become the main target of these cybercriminals. Any breach caused by a successful cyberattack could be crucial for your organization, as it may lead to severe corporate data leaks. As we are using more and more tools and applications in our daily job activity, it is critical to have strong protection for all of them. We think that when it comes down to your business, everything must be 100% secure, especially your company passwords and secrets.
5 reasons why using a password manager can be useful for your business
Only one master password to remember
A password manager stores all of your passwords in a single account. The master password to your "vault" is the only password you'll ever need to remember.
Generate complex and encrypted passwords
Generating random passwords for each of your accounts is a must. Nowadays, password cracking programs are designed to guess the most common passwords first so completely random passwords are far stronger than the ones you can think of.
Easy changing and adding of passwords
With a Password manager you can easily change or reset passwords. If an account in your company has been hacked, you can stay secure by using an implemented password generator to create a new password. Some password managers can even reset your passwords in a single click. You can also choose to change all of your passwords periodically for optimal security.
Share your passwords securely
With a business password manager, you can easily share passwords with coworkers. The shared account option gives you the ability to control who has access to passwords.
Minimal financial investment
Without any investment or a minimal one, you can gain all the benefits of a Password Manager.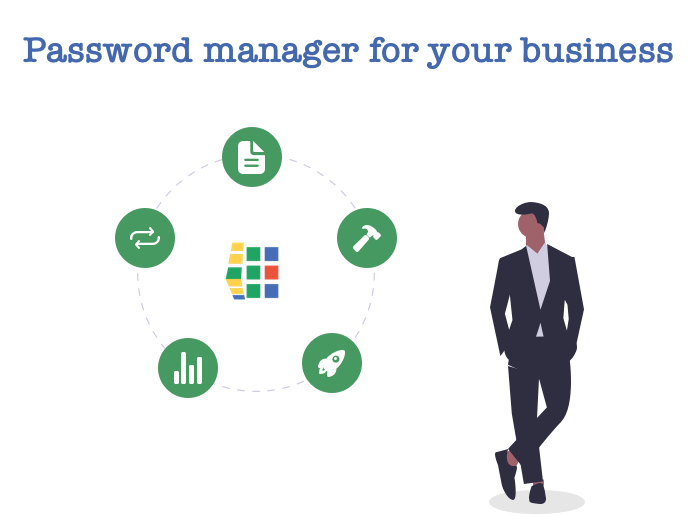 Cybersecurity is a critical component of running a successful business today.
Business owners are beginning to recognize the real threat that lurks in the cyberspace - data breaches. Unfortunately, security holes are everywhere - from poor password practices to lack of compliance from your team. The truth is some people are constantly searching for their prey in the endless source of information on the Internet and are performing malicious activities to destroy, expose, alter, disable, steal or gain unauthorized access to various sensitive data.
Finding a solution that not only provides the best protection for your business but is also manageable for employees to use is not an easy job. It is best to keep the bad guys away with the right business password manager. Here is why Drive Password may be the best choice for your business:
Drive Password is COMPLETELY integrated into Google Drive's ecosystem to ensure the maximum level of security while using the software.
Drive Password design is very similar to Google Drive and this is made for the sole purpose to ensure instant implementation of the password manager in the daily workflow with no time needed to adapt to it! This way your business process will not be slowed or negatively affected, but only improved.
This business password manager is optimized for one reason – to provide maximum security alongside easy-to-use panel navigation, made for EVERYONE in your team!
Drive Password supports several 2FA (Two-Factor Authentication) methods such as biometric identification, pattern lock, password, and Google Authenticator. Double the security at every level (access level, data level, and storage level) by possessing the total freedom, as all passwords and sensitive information will be available to you and you will be able to manage your business wherever you go!
If your company is currently using another password manager, you can easily import the data on Drive Password in just a few minutes with a quick guide for each step.
Our Password generator will create a unique password for each of your employee's accounts according to the latest security standards. Without having to remember complicated passwords, your team will be able to not only use stronger passwords but also use a different combination for every access point. That way, in the event of a breach, the cascading effect when each account becomes compromised will be avoided.
The implemented Group feature in this business password manager allows you to add members that are part of a smaller team and provide them instantly with the access they need. No more sharing to each person individually but if such action is needed, Drive Password got you covered.
The result - a stronger password for each account and increased security at every level!
Don't let your business fall prey to cyber attackers and take your password security at the next level with Drive Password.
Get yourself a 2 months free trial now - no credit card is required. Try and see yourself how Drive Password will empower and protect your organisation. Available on all platforms, Drive Password is easy to use for both tech savvy and people disliking tech solutions